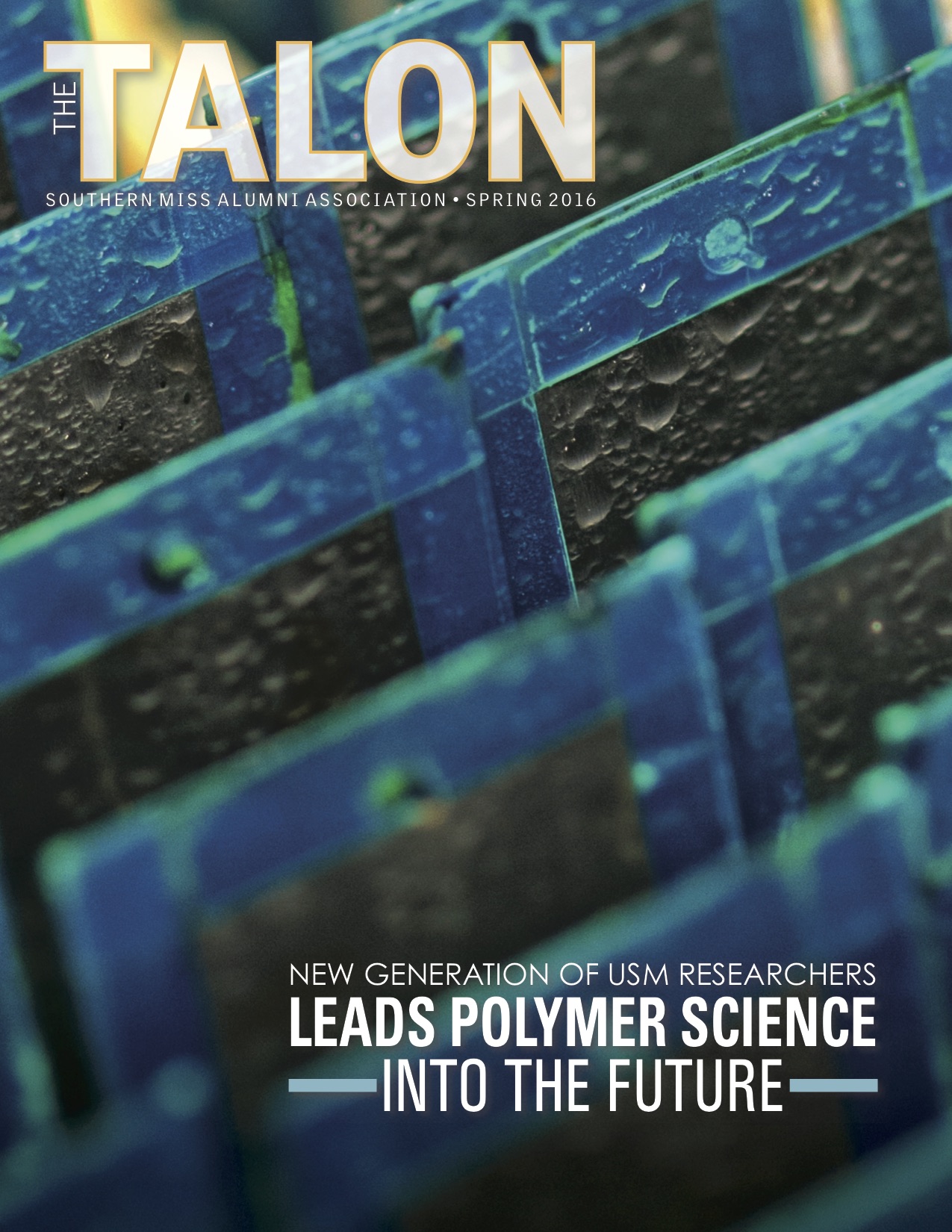 12 May

Chi-Mar Construction's Marty Williams featured in The Talon!

Over the past 16 years, Marty Williams has combined determination, skill and a little luck to develop Chi-Mar Construction, LLC. into one of the Emerald Coast's most respected custom home builders. When he left his hometown of Eufaula, Alabama to relocate to Destin, Williams had a successful foundation built by his varied athletic, sales and construction backgrounds.

Williams stands proud as a graduate of the University of Southern Mississippi, having played football for the Golden Eagles as center alongside quarterback Brett Favre while working towards a degree in general business. In 1988, William's senior season, he was selected team captain and led the Golden Eagles to a 10-2 winning season. After graduating from Southern Miss, Williams embarked on a sales career that took him to Sacramento, Calif., San Diego, Calif., Charlotte, N.C., and Orlando, Fla., working in markets across the country selling electronics and metal buildings.

Williams' introduction to the construction business began while working for American Buildings, Inc., a Eufaula-based company, which allowed him to work with clients nationwide. At American Buildings, he learned the value of providing a quality product, as well as catering to the needs of his customers.

But it was advice given to him early in life that made the biggest impact. At the age of 16, while working in a hometown sawmill, Williams recalls receiving a great piece of advice. An older gentleman told him "When you grow up, you need to be signing the FRONT of checks, not the back of them." Since that day, Williams knew he wanted to be a business owner and has applied his knowledge of business and construction to start Chi-Mar Construction.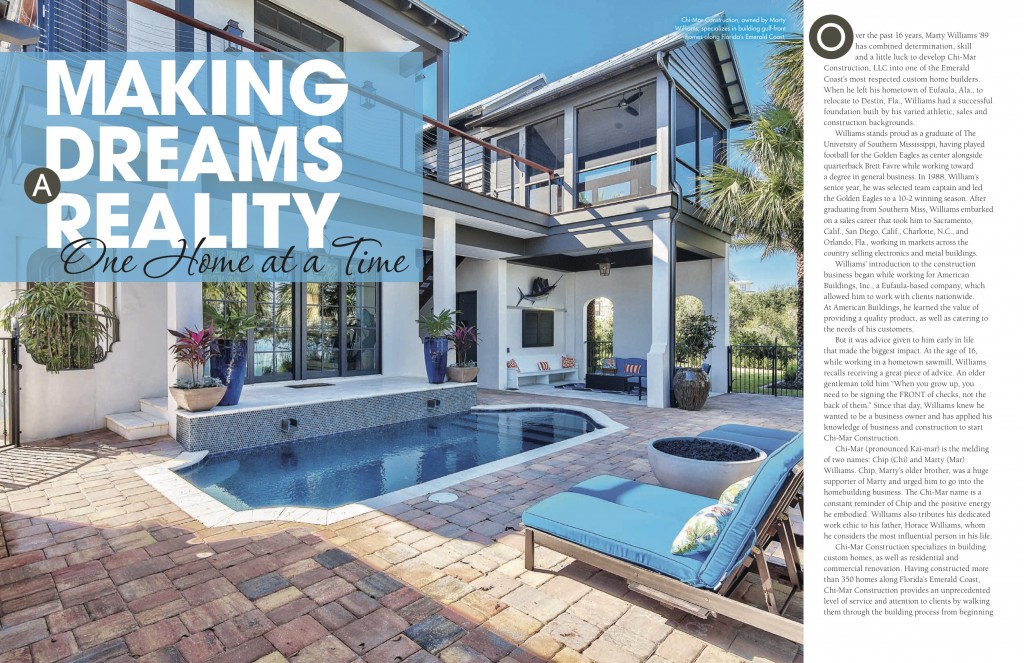 Chi-Mar (pronounced Kai-mar) is the melding of two names: Chip (Chi) and Marty (Mar) Williams. Chip, Marty's older brother, was a huge supporter of Marty and urged him to go in to the homebuilding business. The Chi-Mar name is a constant reminder of Chip and the positive energy he embodied. He tributes his dedicated work ethic to his father, Horace Williams, whom he considers the most influential person in his life.
Chi-Mar Construction specializes in building custom homes as well as residential and commercial renovation. Having constructed over 350 homes along Florida's Gulf Coast, Chi-Mar Construction provides an unprecedented level of service and attention to clients by walking them through the building process from beginning to end — from preliminary visions to selecting vendors and putting the final touches on a project.
An important piece of Chi-Mar Construction foundation is community involvement and philanthropic support. Chi-Mar Construction lends its support to charities such as Lighthouse Family Retreat and Food For Thought Outreach, a 501(c)(3) not-for-profit organization that provides backpacks filled with healthy food for students who are dependent on free school meals. "One of the closest organizations to my heart is Lighthouse Family Retreat," Williams said. "It is an organization dedicated to serving children with cancer and their families through providing them with a seaside retreat. Through this process, it is always our goal to help them to laugh, restore family relationships, and find hope in God during a difficult season in their life."
With Williams' strong leadership skills, demand for excellence and ability to create value, Chi-Mar has thrived in the scenic region surrounding 30A. Chi-Mar Construction has proudly been named "Best Construction Company" for three consecutive years (2014/2015/2016) by the readers of Destin Magazine, voted "Best Builder/Contractor" by the readers of Emerald Coast Magazine in 2016 and was the 2006 Parade of Homes winner.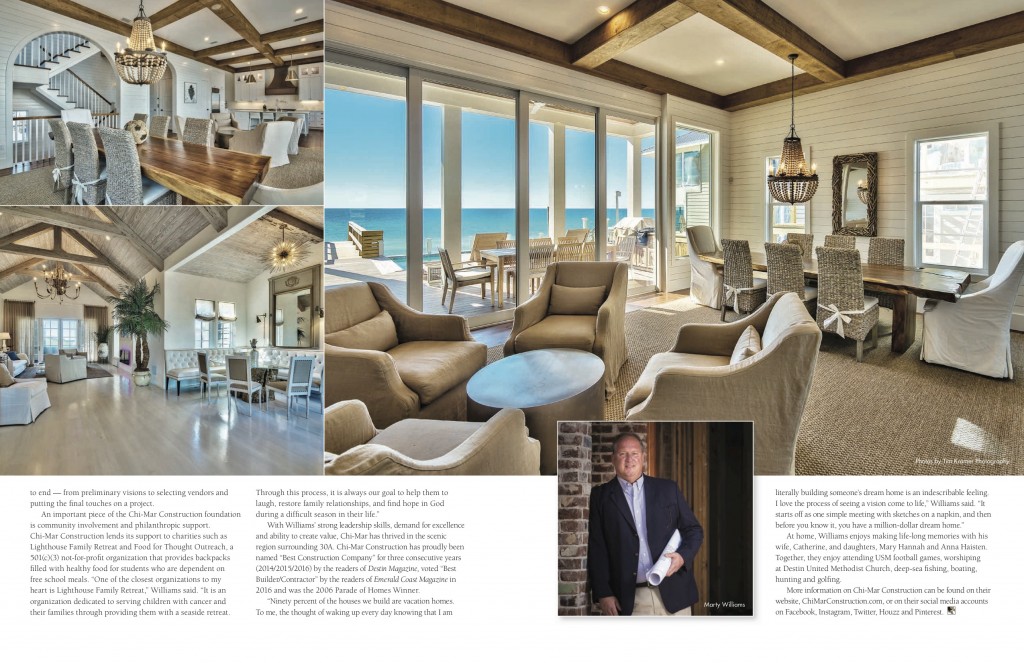 "Ninety percent of the houses we build are vacation homes. To me, the thought of waking up everyday knowing that I am literally building someone's dream home is an indescribable feeling. I love the process of seeing a vision come to life," Williams said. "It starts off as one simple meeting with sketches on a napkin and then before you know it, you have a million-dollar dream home."
At home, Williams enjoys making life-long memories with his wife, Catherine, and daughters, Mary Hannah and Anna Haisten. Together they enjoy attending USM football games, worshiping at Destin United Methodist Church, deep-sea fishing, boating, hunting and golfing.
More information on Chi-Mar Construction can be found on their website, www.chimarconstruction.com, or find Chi-Mar Construction on Facebook, Instagram, Twitter, Houzz and Pinterest.