05 Feb

Seaside Half Marathon Sponsor

Chi-Mar Construction is a proud sponsor of one of South Walton's most popular events, the Seaside School Half Marathon & 5K. The 5K Run and race Pre-Party will take place the last weekend of February and into the beginning of March. The half marathon and 5K races are both sold out. The SoWal community is invited to participate in weekend events surrounding the race, volunteer for race day activities and come out to cheer on thousands of runners on race day
About the Race:  Seaside School Half Marathon & 5K, established in 2003 to raise funds for the Seaside Neighborhood School, has become a huge community affair, drawing more than 3,000 runners from around the world.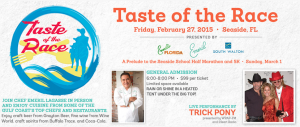 Taste of the Race: Chef Emeril Lagasse is kicking off the Seaside School Half Marathon weekend with the first ever, Taste of the Race on Friday, Feb. 27, 2015 in Seaside. Taste of the Race will be held at the Seaside Lyceum from 6:00 p.m. – 8:00 p.m., with a VIP reception with Chef Emeril Lagasse from 5:30 p.m. – 6:00 p.m. Tickets are ON SALE now to attend the pre-race festivities. Guests will feast on delicious food from top chefs and great live music by the Trick Pony.
Participating restaurants include:
Tickets can be purchased by visiting www.tasteoftherace.eventbrite.com.